"The talk." Sometimes most parents seem to dread having with their children. Depending on how you were raised, sex may have been a very taboo topic. You might have been told how bad it is or not to do it before you were married or you'll get pregnant. Possibly, your parents never even had 'the talk' of any kind with you and just figured you would find out on your own. Mayne you had the 'birds and bees' conversation. No matter how you were raised, now that you are a parent you have a responsibility to talk about sex with your children. Don't be a chicken! I'm not going to leave you stranded here, so stick with me!
We have 5 children, currently ages 10,9,8,7, and 5. We also homeschool our children, so yes, they are more innocent and naive than many children their ages. However, as followers of Jesus, we know what the Bible says about marriage, love, relationships, and sex. We want to teach our children in the ways of the Lord, and want them to have a Biblical view on these topics. I'll be honest, it was nerve-wracking when I began to think about having to talk to my children about sex. What if I say something wrong? What if they have deep questions? What if I just stumble over my words because I'm nervous? Do I talk to our girls and Greg talk to the boys? Or vice versa? What do we do?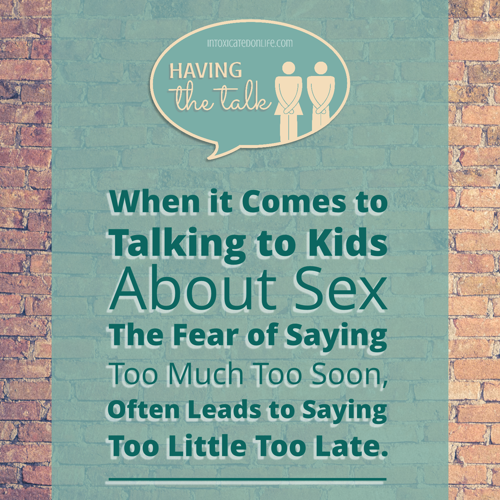 Too often, parents say too little, too late out of fear that they are going to 'sexualize' their child. I will assure you, that has not happened in our family. Our oldest still hasn't put two and two together of the understanding of how she got here! She didn't even seem to correlate it to her parents!
The Talk

I came across a resource that has been absolutely amazing! It's called "The Talk: 7 Lessons to Introduce Your Child to Biblical Sexuality" and I have to tell you- it's so good! It is a completely scripted book that you as parents, together, read with your child. It goes through how men and women are different, our anatomy, sex, how babies develop in the womb, and more. This completely took the guess work out of what to say to my child! Reading this book with our children as mother and father has really opened a line of communication about our bodies, sex, and relationships. This is an area I have always wanted my children to know they can come and talk to us about.
This book is geared towards 6-10 year olds. Some of you might have just gasped and said "My 6 year old! He doesn't need to know about sex!" You need to know your child. Maybe your 6 year old is too young. Maybe he's not. Use your discernment, but don't not talk to your children out of fear. I will just say, I have been shocked by some of the conversations I have had to have with our two oldest children concerning gender identity and homosexuality. When I became a parent, I didn't think these conversations would be happening with my 9 and 10 year old. Be prepared, parents. Your children, no matter how sheltered, are not exempt from being taught by the world about sex and relationships.
Need more help? Luke and Trish also offer a video series for parents, it includes a digital copy of "The Talk" with it!
Changes

The next book in this three book series is "Changes: 7 Biblical Lessons to Make Sense of Puberty." I haven't done this book completely with our oldest yet, but we have pulled out bits and pieces when she as questions. I have read through it, and again, it is a great resource for a parent who doesn't know how to talk to their child about the changes that are happening in their body as they get older and mature. This book is geared towards 8-12 year olds.
Another reason I am not in a rush to start this with our oldest is because, though she may be moody, she hasn't shown many signs of puberty. I think we are very, very close to it. I believe when we are done with the first book with our son, we will start this one with our oldest. Again, I love the set up of these books. You just read the lesson, ask the questions, pray together, and you're done! We always ask at the end if they have any questions they want to ask us.
Again, Luke and Trish also have a video series for parents for this book as well!
Relationships

The final book in this series is "Relationships: 11 Lessons to Give Kids a Greater Understanding of Biblical Sexuality." This book is written with children ages 11-14 in mind. We have not gone through this book with our children, but I have read through it. I did pull out one lesson when my daughter was asking questions about if girls can date girls.
This book tackles some really difficult topics that parents might have discussing with their children. They discuss guarding your heart, eyes, and body, and pursuing Christ, holiness, and integrity. Who doesn't want that for their children? I am excited to continue this topic with my children as they grow and mature.
You can also purchase these books as a set here.
Don't be a Chicken
Keep the lines of communication open. Talking to your children about sex is not a "one and done" deal. It needs to be an ongoing conversation. Avoid the thought that once you tell them what sex is, you did your job. We know that in our culture, it is a lot more complicated than that. Make sure you children know they can come and talk to you without you questioning them.
Parents, I really believe this is an area we are slacking in. For whatever reason, which might be our feelings of being uncomfortable, we don't talk to our children about sex, love, marriage, relationships. With everything these days needing to be politically correct, it might make it hard for you to share the truths of God's word. Don't back down. Do not cower in fear. Don't be a chicken. Stand up for what is right and true. Believing the truth of the God's word doesn't mean you have to beat people over the head with the Bible because you choose to believe what is in it is true and right.
Perhaps you have older children and you feel like this is a topic you have let slide under the rug, I pray you will be bold enough to step up as the parent and lead the way. Apologize and tell them you are sorry for not having conversations with them about this sooner. I think you being open and honest will go a long way in regaining ground when it comes to talking to your children about sex and relationships.
These books have taken the guess work out of what to say to our children. It has completely opened the lines of communication for us with our children. Zoe, our oldest daughter has come to me countless times since going through the first book together saying "Mom, can I ask you something?" I love that she feels comfortable with me and knows that she can ask me anything. I hope these resources will bless you and your family the same way they have ours.